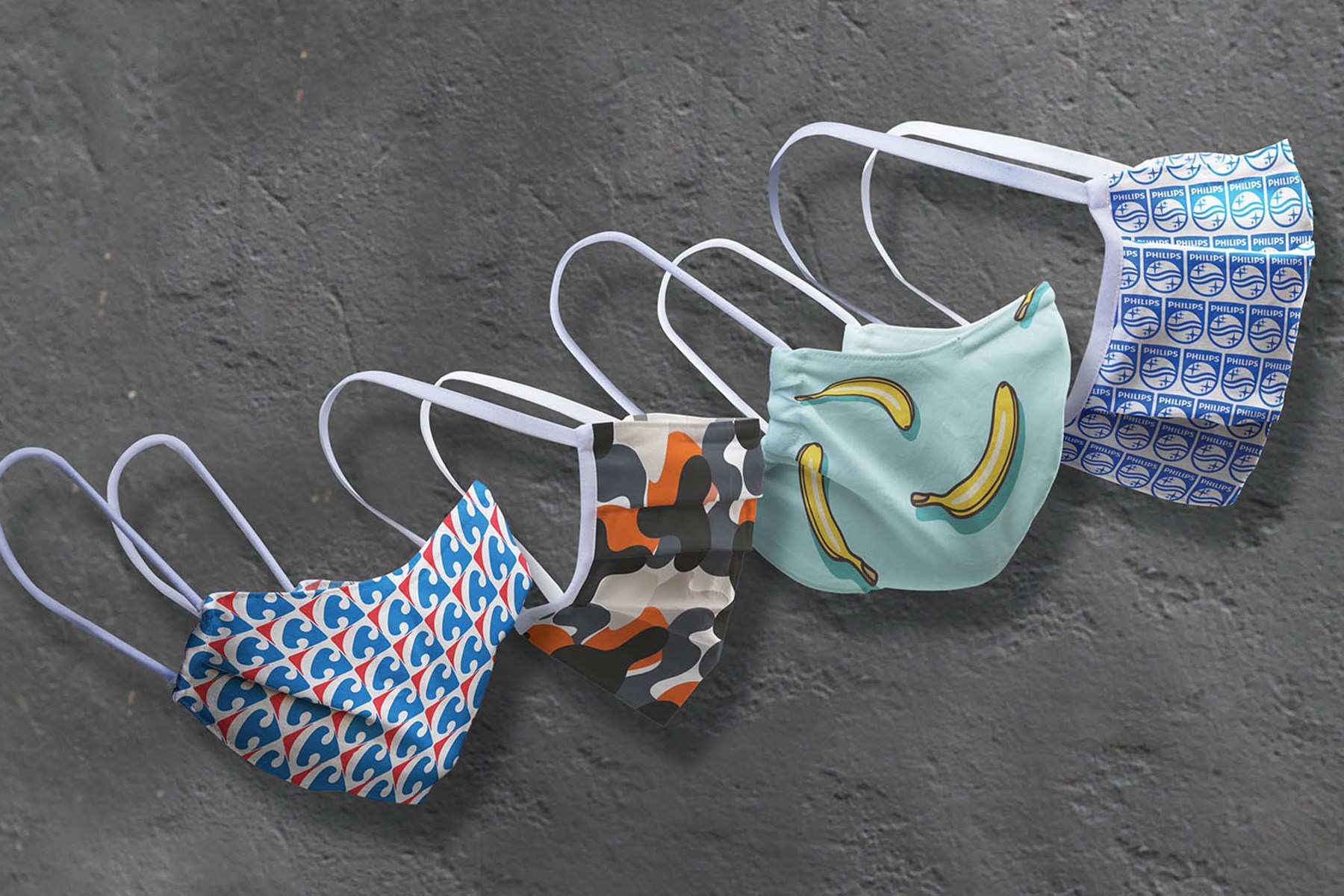 CERTIFIED.
REUSABLE.
BRANDED.
Textile face masks
CERTIFIED. REUSABLE. BRANDED.
Textile face masks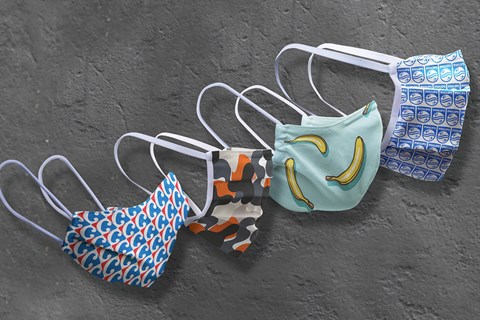 Fully branded
HIGH QUALITY, CERTIFIED FACE MASKS
These times are all about protection. Protect yourself, protect the ones you love and the people around you. Reusable textile masks intended to promote group protection. With so many different people and faces, we came up with designs that adapt to this. Besides a great fit, design plays a big part too.
That is why Tiron Graphics fills the gap between certified quality face masks and great looking branded face masks. We custom design your preferred shape with your company branding or personal requirements.
These textile masks are made for the safety and protection of individuals and can be used in working environments, corporate meetings, site visits, confined space, elevators and other public areas. All masks are produced in Europe with European certificates, washable, made of high quality textile and can be shipped world wide.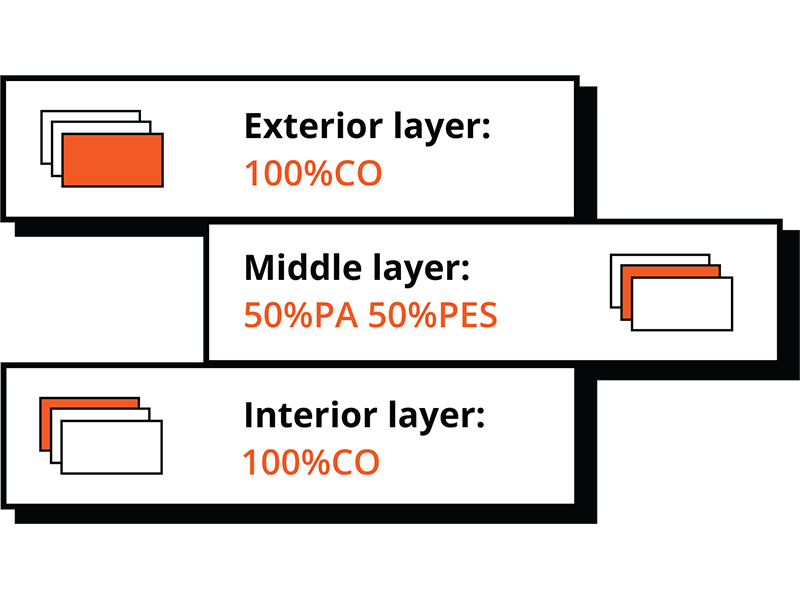 CERTIFICATIONS
Certified Cotton Material - GOTS / BCI
Certification Standard 100 by OEKO-TEX, appendix 4, product class I.
CERTIFICATION BY:
CITEVE (Centro Tecnologico Têxtil e Vestuário)
DGS (Direcção Geral de Saude)
IFTH (Institut Français du Textile et de l'Habillement)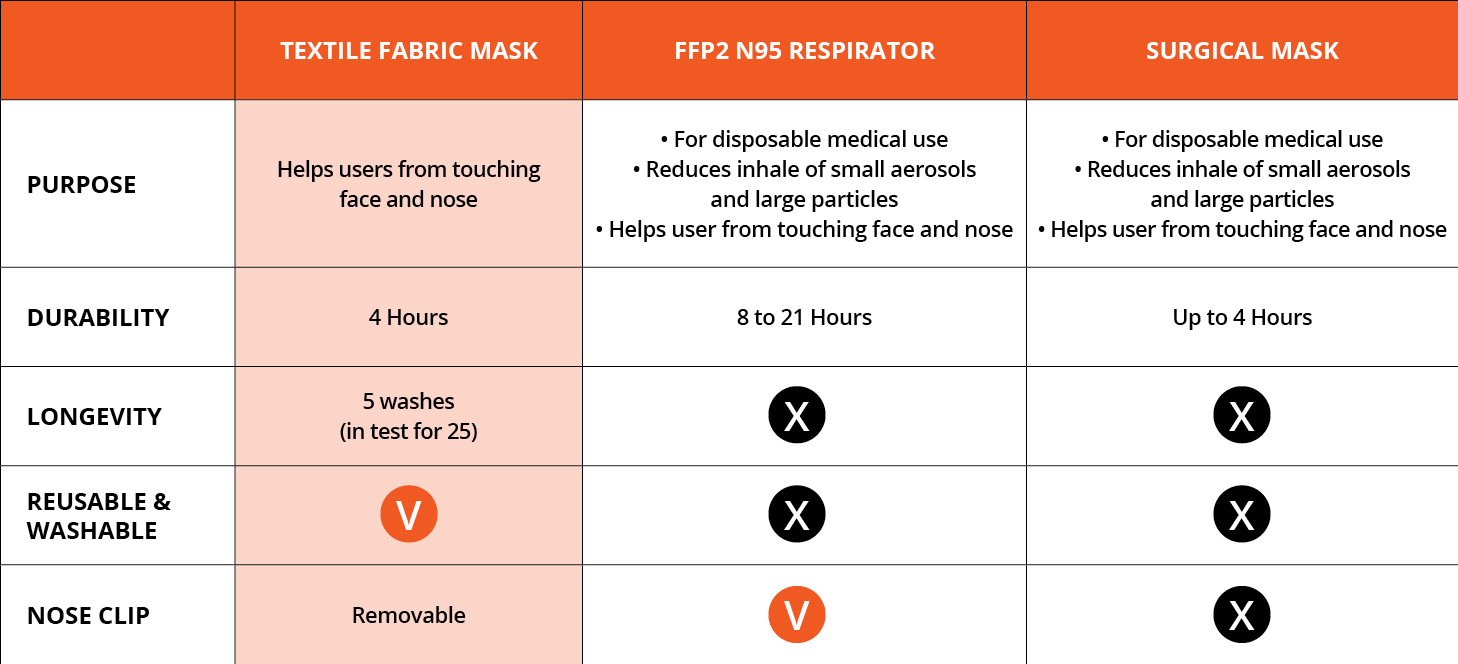 4 COMFORTABLE TYPES

WASHABLE
5x with certification
20x with anti-bacterial coating

PROTECTION
3 layers (100% CO-non woven- 100% CO)
GOTS and BCI certified cotton. Oekotex standard 100 certificate, CITEVE COVID19 approved
CITEVE PT: based on norm EN 14683:2019 anex B and EN ISO 9297:1995. AFNOR FR: EN 13274-7

We have created 4 comfortable masks that are available in universal sizes. These masks have been thoughtfully designed to combine distinctive looks along with the most important feature of enhanced protection capacity.
You can now order customised face masks with your company logo to help your brand stand out from the crowd.
Simply hit the button next to the shape you prefer and fill out your requirements on the request form. One of our creative staff members will reach out to discuss the branding and design possibilities. Protect your colleagues and loved ones with a comfortable and great looking mask.
MINIMUM ORDER QUANTITY: 100 PIECES
PRICES ARE EX. SHIPPING COSTS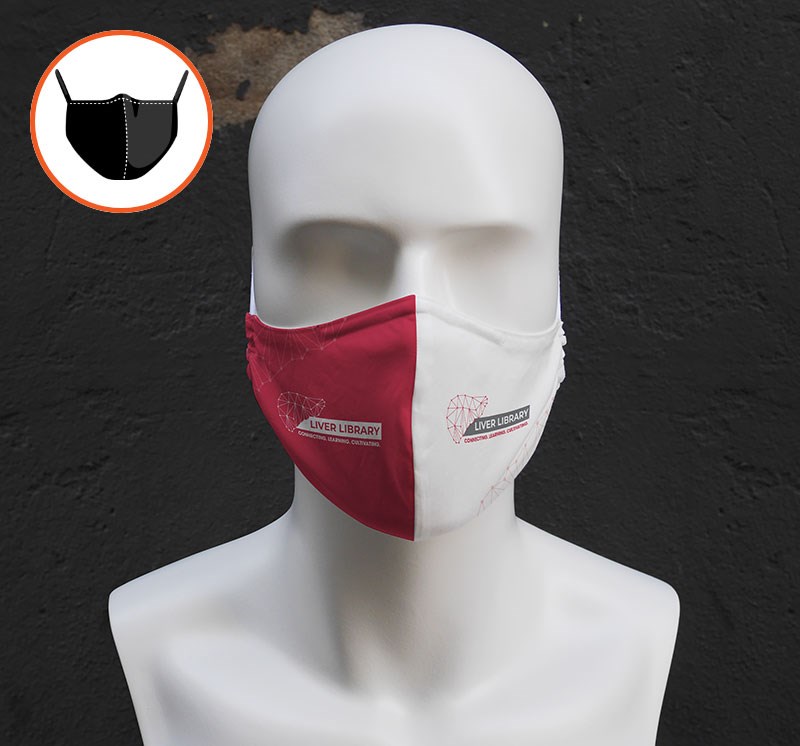 FACE MASK NINJA
For this model the "NINJA", we took inspiration from the ancient Japanese martial artists! The mask protects you just like it protected the ninja back in the day from harmful toxins and prevented from leaving their own traces behind. With this mask, we tried to bring the ancient Ninja look back and its capacity of protection.
AED 25.50
Per piece below 1000 pieces
AED 23.50
Per piece above 1000 pieces
Min. order Qty. 100 pieces
Order now 
FACE MASK SPARTAN
Although it's basically a reversed spartan helmet, we took the liberty of naming this mask "SPARTAN". The spartans were an elite army of Sparta, they could withstand an entire army with just a few of spartans, in a way this mask can withstand an army of toxins and viruses from spreading.
AED 25.50
Per piece below 1000 pieces
AED 23.50
Per piece above 1000 pieces
Min. order Qty. 100 pieces
Order now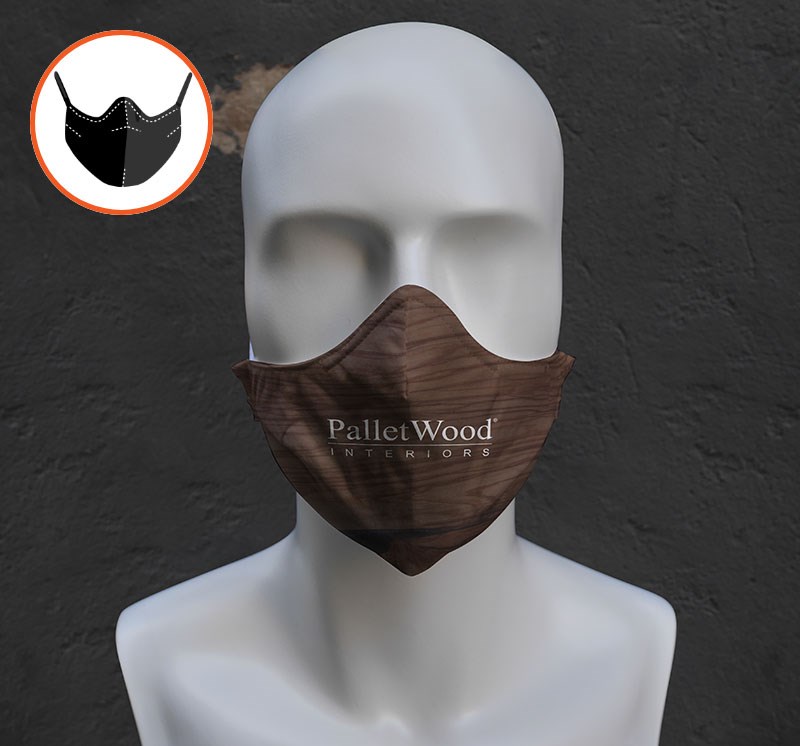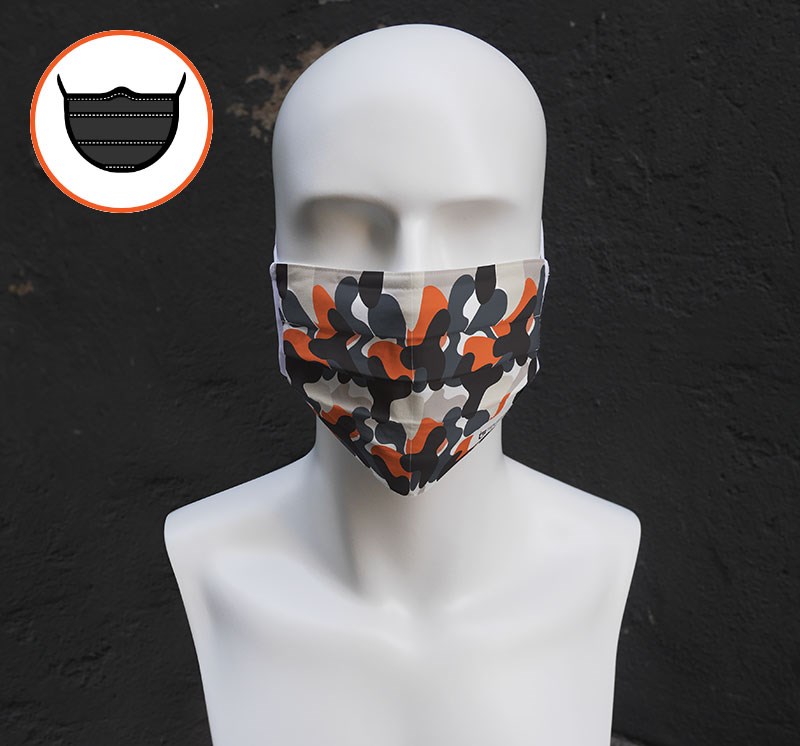 FACE MASK KNIGHT
Influenced by medieval times, we developed the "KNIGHT" masks. These were inspired by the armour of the knights of the XVI century, from the front of the helmet to the protective shield … nothing more suitable to protect us from this "battle". 
AED 25.50
Per piece below 1000 pieces
AED 23.50
Per piece above 1000 pieces
Min. order Qty. 100 pieces
Order now
FACE MASK SAMURAI
The "SAMURAI" masks are robust double layer face masks that are inspired by the samurai's armor, because of the layered setup these masks will give you the protection you need to protect yourself from this invisible threat.
AED 25.50
Per piece below 1000 pieces
AED 23.50
Per piece above 1000 pieces
Min. order Qty. 100 pieces
Order now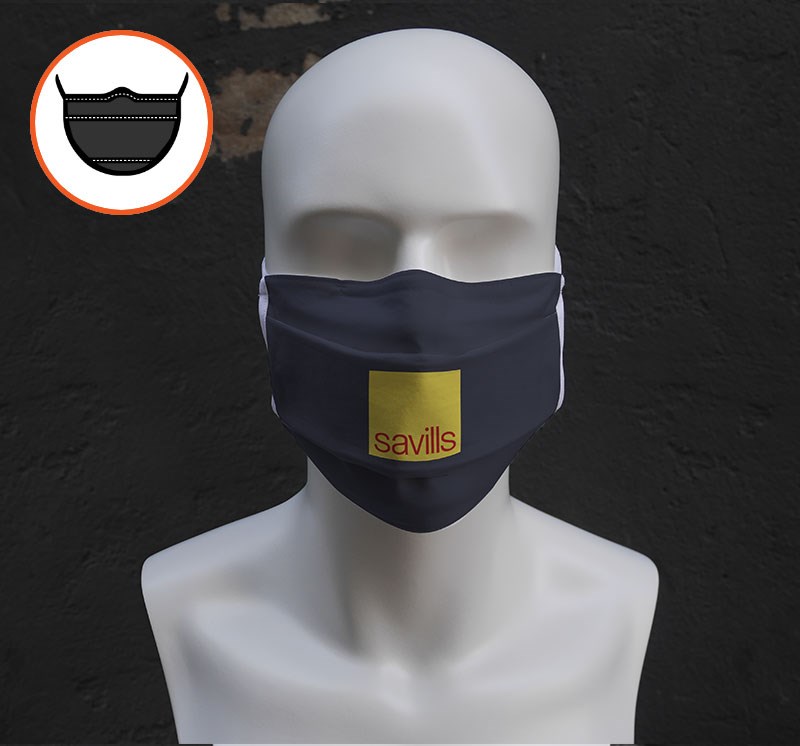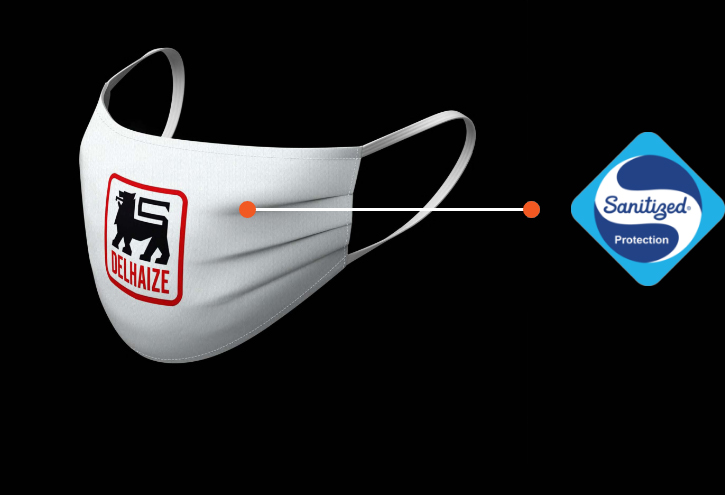 ANTIMICROBIAL MATERIAL PROTECTION THANKS TO THE SANITIZED® ODOR REDUCING TECHNOLOGY
Fresh and light, dermatologically tested, built-in fragrance
Prevents development of bad odour caused by bacteria
Reduce and prevent the colonization and multiplication of bacteria, mold and mildew or dust mites.
Prevents settlement of dust mites, antimicrobial efficacy up to 20 washes
CUSTOM DESIGN
Costume design, like the word says we can make everything happen within the canvas of the masks, do you want a branded pattern, or maybe a stylish logo with suitable background? Feel free to share your requests with us and we will set our creative brains to it to make something beautiful.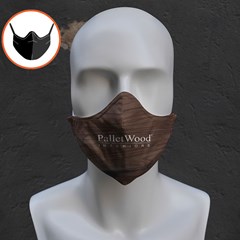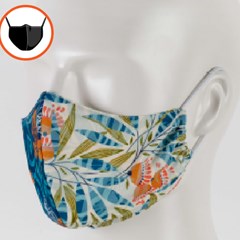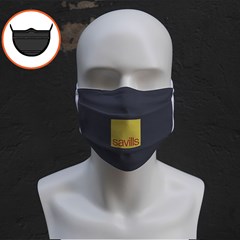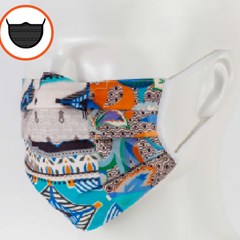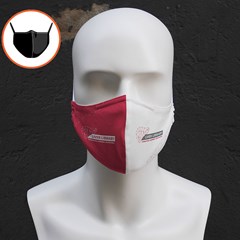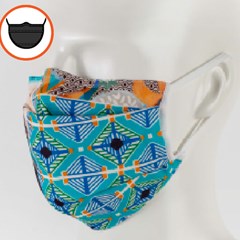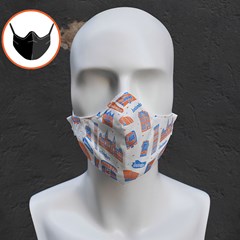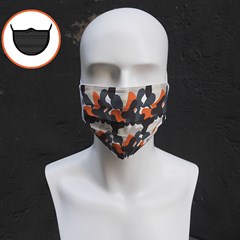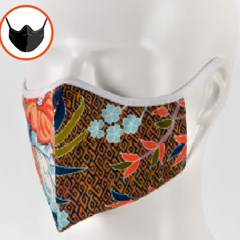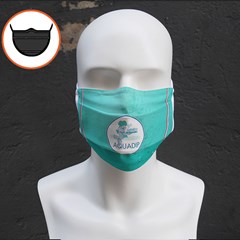 ORDER YOUR BRANDED FACE MASKS
Wash hands before touching the mask
Put on the mask by only holding the ear bands
Gently press nose wire around nose area
Protect others and yourself
RECOMMENDATIONS
Mask protection is only guaranteed if you respect the following cleaning and care instructions
The mask should be stored in a dry environment and protected from potential contamination (initially or after washing). In case of defect or damage do not use the mask, replace with another.
At the end of the mask's life cycle, the mask should be washed under the conditions defined in the section "Care and cleaning" and after washing it should be discarded as non-hazardous textile waste. If you choose not to wash the mask you should discard it as biological waste.
CARE AND CLEANING
Maximum number of wash cycles in which mask protection performance is guaranteed: 5 times.
Masks should be washed using a normal, complete wash cycle at 60°C with detergent after each use. The user must ensure that the mask is completely dry before use.

INSTRUCTIONS FOR USE
This mask should be used as a complement to the recommended protection and hygiene measures and the rules of social distancing, which are fundamental for the control of COVID-19. The reusable mask should be handled correctly. The following are recommended instructions for the correct use of the mask: Hygiene of the hands, with soap and water or with an alcohol-based solution, before placing the mask; The mask should be washed before its first use.
Note: Textile masks are not classified as medical devices or personal protective equipment
1. PREPERATIONS
Clean your hands with soap and water or hand sanitiser before touching the mask.
Placing the mask with the inner face facing the face, and the outer face facing out.
2. ADJUSTING THE MASK
Adjusting the rigid end of the mask to the nose, covering the mouth, nose and chin with the mask, making sure there are no spaces between the face and the mask.
3. TOUCHING THE MASK
Do not touch the mask while it is in use; if this happens, the hands must be cleaned immediately.
4. MAXIMUM HOURS A DAY
It is recommended that each mask be worn for a maximum of 4 hours per day and that the mask be replaced with a new one at the end of this period or once it gets wet.
5. WET MASK
If you accidentally get your mask wet, you should replace it with a dry one as soon as possible. The wet mask should be washed before reuse.
6. REMOVING THE MASK
The mask should be removed from the back (by not touching the front of the mask), holding the ties or elastics.
7. STORING THE MASK
The mask should be placed individually in a closed plastic bag until it is placed in the washing machine.
8. WASH HANDS AFTER TOUCHING
Hygiene of the hands should be done at the end of the use and handling of the mask.
ORDER YOUR BRANDED MASK NOW