Why
Create brand awareness
Product
Branding material
Heineken is one of the most well-known brands in the world. Contributing to this makes our graphical hearts beat faster. We create POS (point of sale) material for the UAE market. Some examples are event branding, posters, flyers, store shelves, brunch stands and any other item with Heineken on it. We are trusted to respect their brand identity and handle it in a creative way to bring messages across as attractive as possible.
BRAND IDENTITY
A brand this big can only guarantee consistent appearance by following a very strict branding policy. The brand identity is so advanced that literally every possibility is written down, documented and checked in action. This makes it hard to be creative, but certainly not impossible. Rules are made to be broken? Well, not really, but there is nothing wrong with trying to bend them in a creative way. It is always a challenge to produce something that is on-brand without it becoming boring.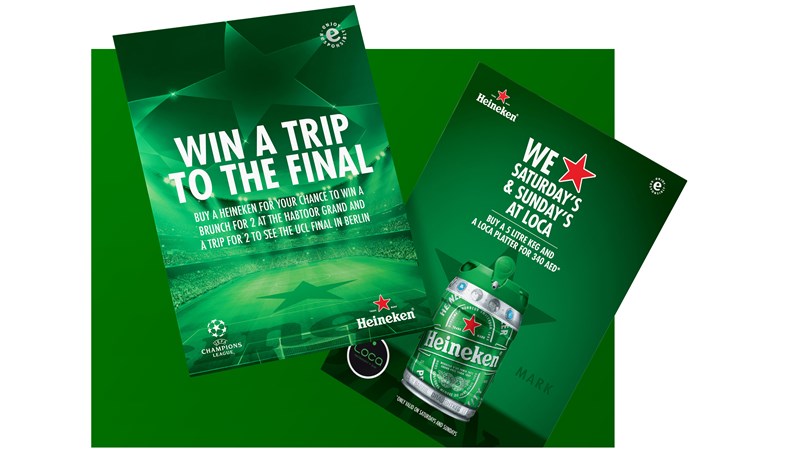 BAR BRANDING
PROFESSIONAL APPEARANCE
A common thing we design for Heineken is bar branding. We get briefed with a specific promotion. It is our job to make a visually attractive bar to make sure the promotions get enough attention while people go out. All other parts of the campaign are consistent throughout, which forms a professional appearance of the brand within any venue.
A TO Z
IDEAS ON THE SHELF
To make sure the brand is well represented in any way, we also create shelf designs for stores in the region. This adds on to the whole Heineken experience that people undergo while they get involved with the brand. The same goes for brunch stations, which are placed at events. These small but creative stations play a big role in the mood of the visitors to the event. We create these items in 3D to give an accurate impression of the end result.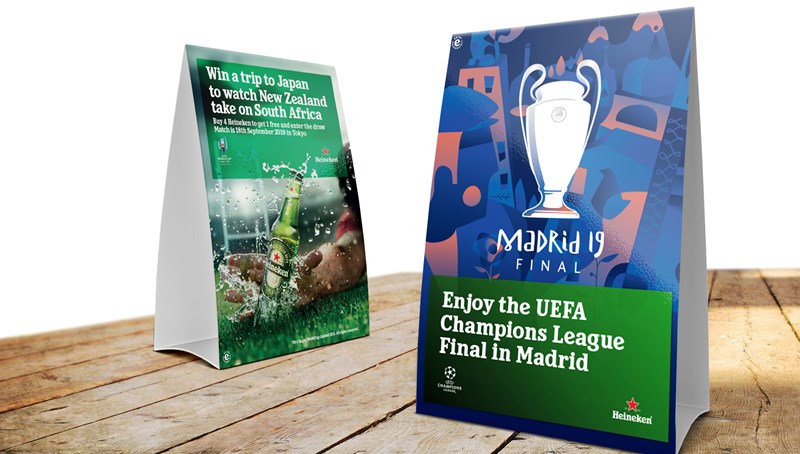 SOFTWARE & PLUGINS
To create these Heineken brand items, we use a combination of Adobe software. Combining InDesign, Photoshop, and Illustrator, we can guarantee a professional, creative and quick end result.
We use Blender for everything 3D related such as shelf designs brunch bars and mock-ups. Blender is an Open Source 3D software package that allows us to create stunning visuals and effects.